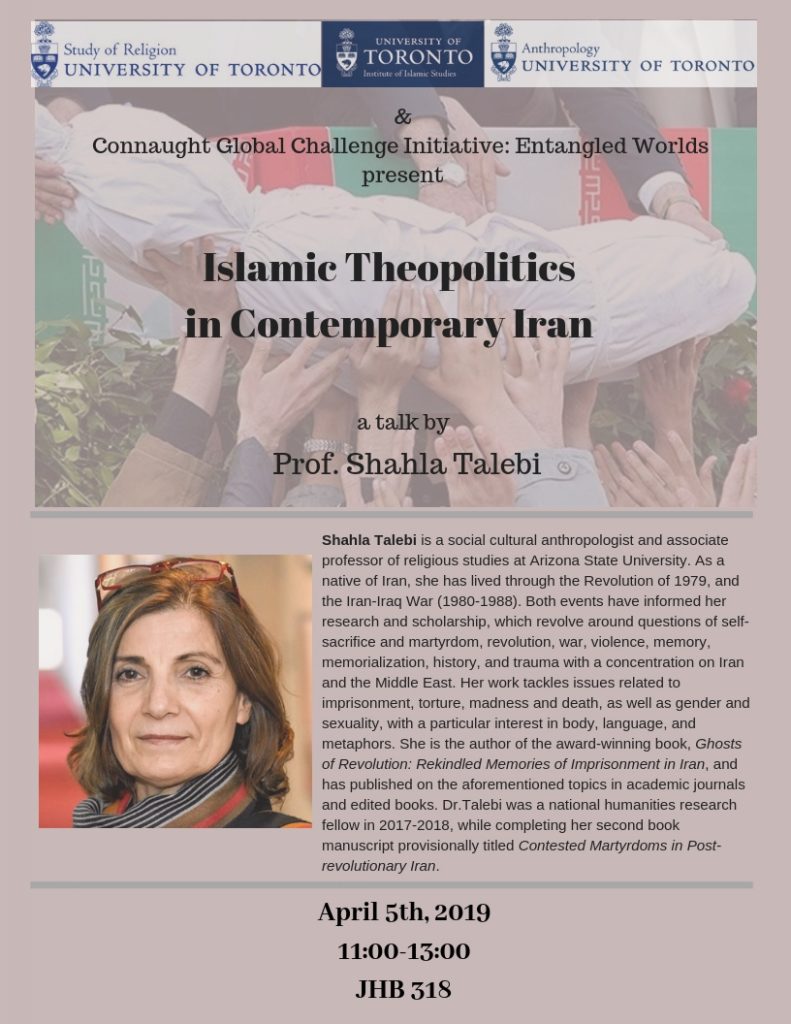 Connaught Global Challenge Initiative: Entangled Worlds, Department for the Study of Religion, Department of Anthropology, and the Institute of Islamic Studies at University of Toronto present a talk by Prof. Shahla Talebi on Islamic Theopolitics in Contemporary Iran:
From Caves to Mountain Summits: Theopolitics of Contemporary Iran
Pre-revolutionary Iran, especially since 1960s, was marked by a grave anxiety about modernity and religiosity. Questions of submission, autonomy, and subjectivity were crucial preoccupations for many Iranians, especially for political dissidents. From mountain hiking, which was used as a platform for the revolutionaries, to be revolutionaries, and the secret police to respectively recruit, be recruited, or prey, to the Muslim dissidents' attempt to live an exemplary life without appearing religiously pretentious, meticulous techniques were deployed to at once reveal and conceal what lay behind each individual's "intentional" performative acts. Invisible authorities, sacred rules of conduct, and demand for faithful submission were essential to the formation of subjectivities both for Marxist and Muslim revolutionaries. As with the theatrical reenactment of Karbala Event staged as shabih-khani (reading similar), mimesis-alterity, proximity-distance, identification-differentiation were indispensable to the configurations of a theopolitical culture. Through an ethnographic narration of the, albeit shifting, modalities of submission and subjectivity in the pre and post-revolutionary Iran, Shahla Talebi traces the trajectories, consistencies, and vicissitudes, of this theopolitical culture and its implication for post-revolutionary generations of Iranians.