Connecting the Books 

The Connaught Global Challenge Initiative, Entangled Worlds: Sovereignty, Sanctities and Soil is pleased to present a new, online series for the upcoming Winter 2021 semester: Connecting the Books.
As an extension of the Entangled Worlds' "Holy Infrastructure" Reading Group, which has thus far considered the transdisciplinary ways in which infrastructures, sovereignties, charisma, and the political are inextricably linked, Connecting the Books seeks to further this analysis by considering these themes in connection with three recently published ethnographies and their authors: Charles Hirschkind's The Feeling of History: Islam, Romanticism, and Andalusia (2020, Chicago Press); J. Brent Crosson's Experiments with Power: Obeah and the Remaking of Religion in Trinidad (2020, Chicago Press); & Elayne Oliphant's The Privilege of Being Banal: Art, Secularism, and Catholicism in Paris (2021, Chicago Press).
Charles Hirschkind's The Feeling of History: Islam, Romanticism and Andalusia
            Thursday, February 25th, 4:00pm – 5:30pm
Eventbrite: https://connecting-the-books-series-hirschkind.eventbrite.ca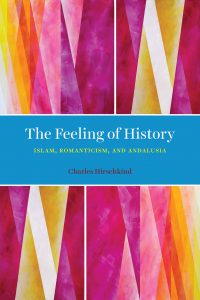 This book explores some of the different ways in which Europe's Islamic past inhabits its present, unsettling contemporary efforts to secure the continent's Christian civilizational identity. Taking southern Spain as its primary focus, it examines forms of history and memory that mediate and sustain an active relation to the Islamic heritage of Andalusia, and the impact these forms have on the ethical and political possibilities of finding a place for Islam in Spain and Europe today. This effort at historical recuperation has been the central concern of a longstanding tradition (known as Andalucismo) among Spanish artists, writers, musicians, and political thinkers, a tradition based on the principle that contemporary Andalusia is linked in vitally important ways with al-Andalus (medieval Islamic Iberia) and that the challenges faced by Andalusians today—and by Europeans more broadly—require a recognition of that historical identity and continuity. The book gives particular attention to the role of musical and aesthetic sensibilities in shaping the way the past is encountered and given a place in the lives of contemporary Andalusians. Challenging conventional interpretations of Andalucismo as Romantic fictionalization or Orientalist fantasy, The Feeling of History highlights the multiple ways Spaniards have accommodated their lives to the demands of an inheritance only partially available to knowledge and thus more felt than known, and in doing so, have sought to unsettle the historical geography of what today is called fortress Europe.
Charles Hirschkind is associate professor of anthropology at the University of California, Berkeley. His research interests concern religious practice, media technologies, and emergent forms of political community in the urban Middle East and Europe. His published works include The Ethical Soundscape: Cassette Sermons and Islamic Counterpublics (Columbia 2006), Powers of the Secular Modern: Talal Asad an his Interlocutors (co-edited with David Scott, Stanford 2005), and The Feeling of History: Islam, Romanticism, and Andalusia (Chicago 2020). 
---
Brent Crosson's Experiments with Power: Obeah and the Remaking of Religion in Trinidad
Wednesday, March 24th, 12:30pm – 2pm
Eventbrite: https://connecting-the-books-series-crosson.eventbrite.ca
In 2011, Trinidad declared a state of emergency. This massive state intervention lasted for 108 days and led to the rounding up of over 7,000 people in areas the state deemed "crime hot spots." The government justified this action and subsequent police violence on the grounds that these measures were restoring "the rule of law." In this milieu of expanded policing powers, protests occasioned by police violence against lower-class black people have often garnered little sympathy. But in an improbable turn of events, six officers involved in the shooting of three young people were charged with murder at the height of the state of emergency. To explain this, the host of Crime Watch, the nation's most popular television show, alleged that there must be a special power at work: obeah.
From eighteenth-century slave rebellions to contemporary responses to police brutality, Caribbean methods of problem-solving "spiritual work" have been criminalized under the label of "obeah." Connected to a justice-making force, obeah remains a crime in many parts of the anglophone Caribbean. In Experiments with Power, J. Brent Crosson addresses the complex question of what obeah is. Redescribing obeah as "science" and "experiments," Caribbean spiritual workers unsettle the moral and racial foundations of Western categories of religion. Based on more than a decade of conversations with spiritual workers during and after the state of emergency, this book shows how the reframing of religious practice as an experiment with power transforms conceptions of religion and law in modern nation-states.
Brent Crosson is an anthropologist of religion and Assistant Professor at the University of Texas-Austin. His research has focused on contestations over the limits of legal power, science, and religion in the Americas. Prior to joining the faculty at UT Austin, he was an ACLS/Mellon Dissertation Completion Fellow at UC Santa Cruz and a Ruth Landes Memorial postdoctoral fellow in cultural anthropology at NYU. His first book–Experiments with Power:  Obeah and the Remaking of Religion in Trinidad–is published with University of Chicago Press (2020).  His research on Caribbean practices of healing and legal intervention–known as obeah, spiritual work, or science–has been published in a number of journals, including Method and Theory in the Study of Religion, The Journal of Africana Religions, Cosmologics, and American Religion. His special issue in the journal Ethnos–"What Possessed You?"–explores the relationship between spirit possession, material possessions, and political sovereignty.  His work on race relations and solidarity has appeared in Anthropological Quarterly and the Duke University Press journal Small Axe. His current research focuses on climate change, religion, and conceptions of energy, with chapters on these issues forthcoming in the edited volumes Mediality on Trial, Climate Politics and the Power of Religion, and Critical Approaches to Science and Religion.
---
Elayne Oliphant's The Privilege of Being Banal: Art, Secularism and Catholicism in Paris
Thursday, April 22nd, 12:30pm – 2pm
Eventbrite: https://connecting-the-books-series-oliphant.eventbrite.ca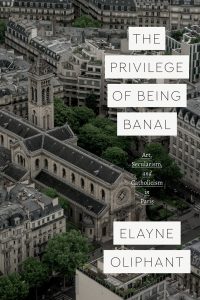 The Privilege of Being Banal: Art, Secularism, and Catholicism in Paris (Chicago, 2021) uses the concept of "banality" to explore how the monumental presence of Catholicism is able to move between Paris's background and foreground without appearing threatening. Rather a sign of weakness, Catholicism's banality is an expression of its Catholicism's privilege in the Parisian landscape. It has, moreover, effaced a number of violent histories and alternate trajectories, as it undergirds Catholicism's circulation in non-religious sites such as museums, corporate spaces, and political debates. The book's aim is to unravel the contradictions of religion and secularism and, in the process, show how aesthetics and politics come together in contemporary France to foster the kind of banality that Hannah Arendt warned against: the incapacity to take on another person's experience of the world.
Elayne Oliphant is an Assistant Professor of Anthropology and Religious Studies at New York University. She is interested in the tenacity of white, Christian privilege in the West and has explored its reproduction through architectural forms, aesthetics, museums, and contemporary art. She has recently begun a new research project focused on practices that offer alternatives to capitalism by way of foregrounding debts and obligations, as opposed to freedom. 
The format of these events will include a brief introduction by an advanced graduate student, foregrounding the themes of Holy Infrastructures in relation to the respective ethnography, followed by a brief presentation by the author. General discussion and question-answer period to follow.
Since these are in-conversation events we ask that attendees read the respective ethnographies or part of them, which can be found in the University of Toronto online catalogue.
These meetings will begin at 12:30pm. Zoom links will be provided to those who RSVP via Eventbrite (see below). Zoom rooms will be open from 12pm noon for those wishing to gather beforehand.