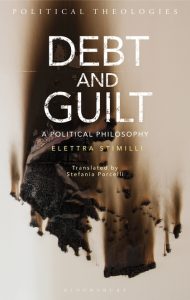 Blurb: The issue of debt and how it affects our lives is becoming more and more urgent. The "Austerity" model has been the prevalent European economic policies of recent years led by the "German model". Elettra Stimilli draws upon contemporary philosophy, psychology and theology to argue that austerity is built on the idea that we somehow deserve to be punished and need to experience guilt in order to take full account of our economic sins. Following thinkers such as Max Weber, Walter Benjamin and Michel Foucault, Debt and Guilt provides a startling examination of the relationship between contemporary politics and economics and how we structure our inner lives. 
Jayne Svenungsson (2016) Divining History: Prophetism, Messianism and the Development of the Spirit. New York: Berghahn Books.

Blurb: For millennia, messianic visions of redemption have inspired men and women to turn against unjust and oppressive orders. Yet these very same traditions are regularly decried as antecedents to the violent and authoritarian ideologies of modernity. Informed in equal parts by theology and historical theory, this book offers a provocative exploration of this double-edged legacy. Author Jayne Svenungsson rigorously pursues a middle path between utopian arrogance and an enervated postmodernism, assessing the impact of Jewish and Christian theologies of history on subsequent thinkers, and in the process identifying a web of spiritual and intellectual motifs extending from ancient Jewish prophets to contemporary radicals such as Giorgio Agamben and Slavoj Zizek.

Charles Hirschkind (2020) The Feeling of History: Islam, Romanticism, and Andalusia. Chicago: University of Chicago Press.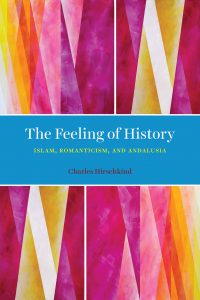 Blurb: This book explores some of the different ways in which Europe's Islamic past inhabits its present, unsettling contemporary efforts to secure the continent's Christian civilizational identity. Taking southern Spain as its primary focus, it examines forms of history and memory that mediate and sustain an active relation to the Islamic heritage of Andalusia, and the impact these forms have on the ethical and political possibilities of finding a place for Islam in Spain and Europe today. This effort at historical recuperation has been the central concern of a longstanding tradition (known as Andalucismo) among Spanish artists, writers, musicians, and political thinkers, a tradition based on the principle that contemporary Andalusia is linked in vitally important ways with al-Andalus (medieval Islamic Iberia) and that the challenges faced by Andalusians today—and by Europeans more broadly—require a recognition of that historical identity and continuity. The book gives particular attention to the role of musical and aesthetic sensibilities in shaping the way the past is encountered and given a place in the lives of contemporary Andalusians. Challenging conventional interpretations of Andalucismo as Romantic fictionalization or Orientalist fantasy, The Feeling of History highlights the multiple ways Spaniards have accommodated their lives to the demands of an inheritance only partially available to knowledge and thus more felt than known, and in doing so, have sought to unsettle the historical geography of what today is called fortress Europe.