At a Vancouver civic banquet to honour the visit of the English soccer team Sheffield United during their 1962 tour of North America, A. Thomas Alsbury, the then-mayor of Vancouver, declared to the assembled audience "the sun never sets on the game of soccer". Alsbury's statement, which jumped out at me when I read it in a copy of the speech at the City of Vancouver archives this past summer, was a direct echoing of the colonial adage "the sun never sets on the British Empire". In the echoing between the two statements, Alsbury's words raise questions about the relationship between Empire, colonialism, soccer, and the global in Vancouver and Canada. Sheffield United's visit to Vancouver in 1962 to play a local British Columbia all-star team was part of a greater North American tour and an example of a number of British teams visiting Vancouver in the mid-twentieth century. Manchester City and Hearts of Midlothian, from Edinburgh, visited and played each other in 1958. Tottenham Hotspur, from London, visited in 1952 and 1966 when they played Celtic, from Glasgow, at Empire Stadium. Huddersfield Town, from Yorkshire, visited in 1955 to play an exhibition match against the local British Columbia all-star team. Liverpool visited Vancouver to play the West German team, Meidericher, in 1964 following their 1963-64 season as the champions of England. These examples of English and Scottish teams visiting in the 1950s and 1960s represent a continuation of British teams touring Vancouver earlier in the 20th century.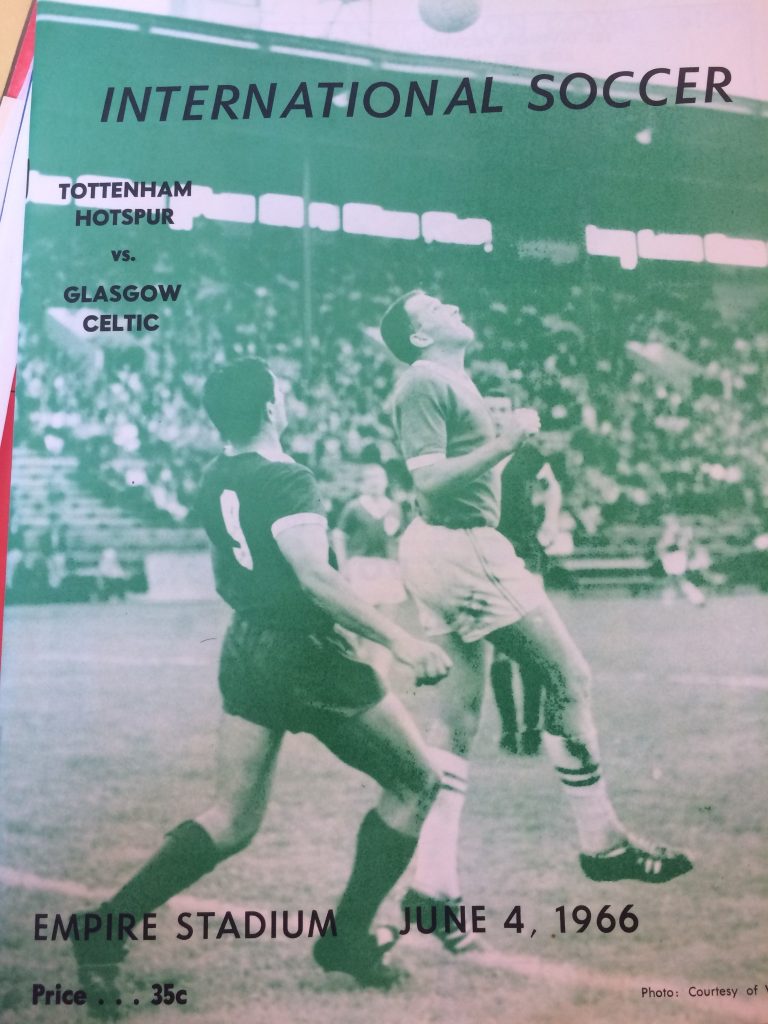 The speeches from city officials around these visits and exhibition games are a site to see the ongoing colonial imagining and structuring of Vancouver and therefore a site to see the entanglement of sport in Canadian settler-colonialism. In 1955 the then mayor of Vancouver, Frederick Hume, told the assembled guests at a banquet for Huddersfield Town's visit "Vancouver is what you might call a good football town". Hume, at the same form of banquet for Manchester City and Hearts of Midlothian in 1958 echoed that idea and explained further "soccer is one of the major sports in Vancouver probably owing to the fact that a large percentage of our people in the early days were composed of arrivals from the United Kingdom". Hume would add "in fact Vancouver is a very sport conscious city favouring probably more kinds of games than any other city on the continent". In these statements by Frederick Hume, soccer is aligned with the colonial formation of Vancouver as a city of leisure and sport.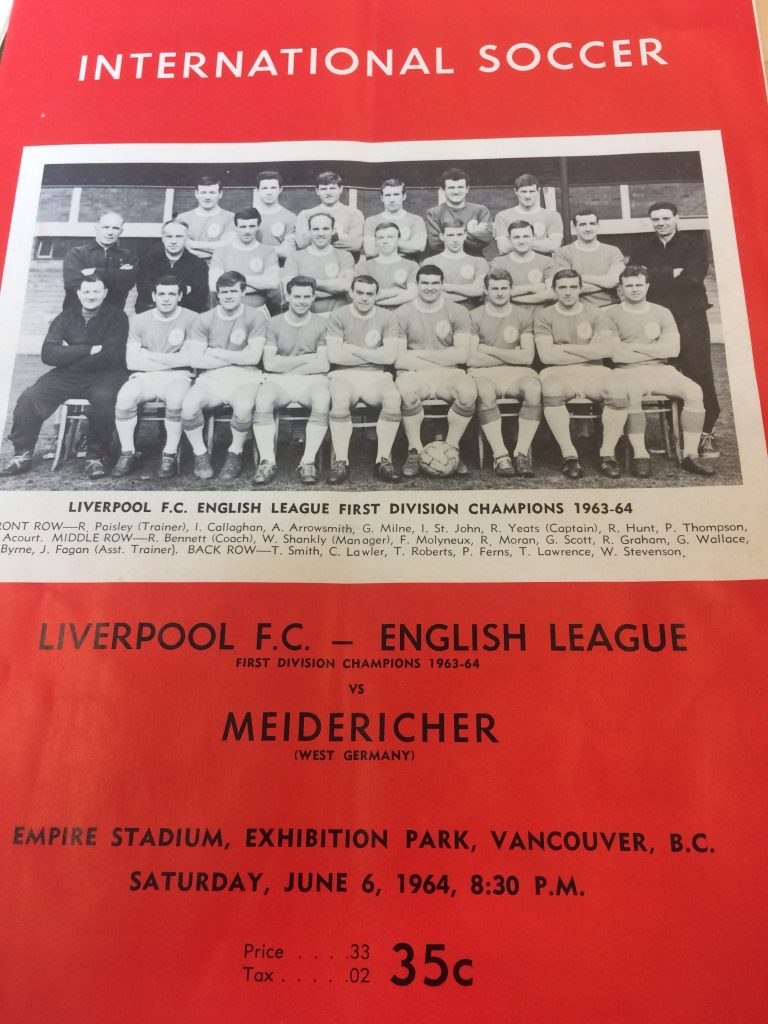 Soccer was also seen in the ongoing colonial imagining of the city. Throughout many of the civic banquet speeches by Mayor Frederick Hume and later Mayor A. Thomas Alsbury these British teams are often referred to as "old country teams" for Vancouver residents who themselves "came from the old land". In the documents in the City of Vancouver archives for a visit of Birmingham City and Third Lanark Football Club's, a now-defunct Glaswegian team, it was noted "both clubs were founded before the birth of Vancouver". In situating these soccer teams as "old country teams" for those who "came from the old land" these Mayors are placing the sport in the continuing colonial formation of Vancouver, which involves the erasure of Indigenous lives, and their presence and history on the land. These British teams visiting in the 1950s and 1960s continue to link back to and continue the particular colonial settlement and transformation of the land in Vancouver. Through these soccer tours a particular Canadian colonial understanding of history and sovereignty is animated and entrenched.
The words of Mayors Alsbury and Hume lay out the entanglement of sport in Canadian settler-colonialism. Within this history, my project understands soccer in Vancouver as further entangled with Christianity and colonialism. Soccer-Christianity entanglement is seen clearly in the Victorian movement of muscular Christianity, which used sport to produce both future colonial administrators and colonial subjects (Mangan 2013). In fact demonstrating the historical depth of the entanglement of soccer and Christianity several of the touring British soccer teams were initially founded by Christian churches. Members of St. Mark's Church of England in south Manchester founded a team named St. Mark's in 1880, which would later become Manchester City. Members of Holy Trinity Church, a Church of England parish church founded Birmingham City in 1875 (Lupson 2006). Celtic, founded in 1888, was started by a local Catholic church in Glasgow that was home to parishioners who had migrated to Scotland from Ireland in the 19th century. Although these clubs have severed their formal ties to churches, in the very history and origins of these British teams that toured Vancouver we can the entanglement of soccer and Christianity as especially important for the development of soccer as a sport and global phenomenon.
In his above mentioned 1962 speech for Sheffield United A. Thomas Alsbury would also tell the assembled audience "soccer is a vital force in the lives of thousands of young men in Canada. Soccer encourages and develops all that is finest in character". In seeing soccer as producing "all that is finest in character" and in particular "integrity, loyalty and fair play", Alsbury was strongly invoking the legacy and continued presence of ideas of muscular Christianity. Furthermore, this same history of soccer and Christianity convergence was present in the church soccer teams I encountered during my time at the City of Vancouver Archives in the summer of 2019. Through photos from the 20th century Vancouver photographer Stuart Thomson, I encountered church soccer teams from Baptist, Presbyterian and Anglican churches and church associations. These churches include St Saviour's Anglican Church, which was in present-day East Vancouver, First Baptist Church, which is still exists in downtown Vancouver, and St. Paul's Presbyterian Church. These photos depict teams of young men that can be placed in both the greater history of soccer and Christianity and the colonial history of Vancouver.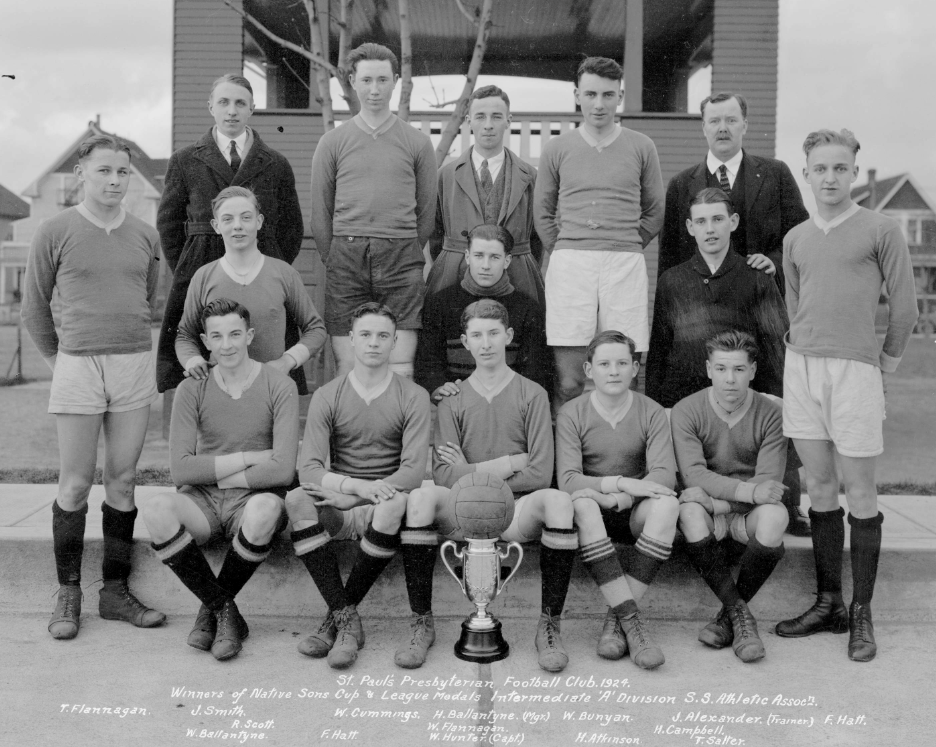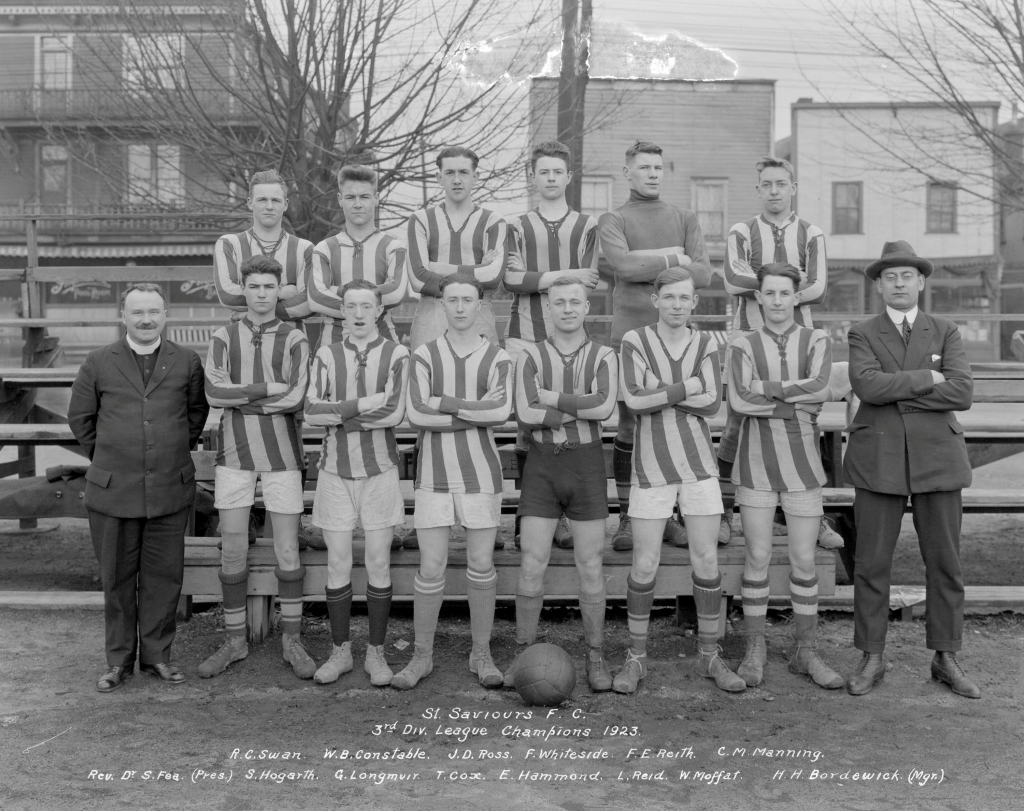 These very intriguing archival photos open up the question: How have soccer-Christianity relations contributed to ethical and bodily dispositions of settlers, mostly men, and the territorializing of space in the settler-colonial history of Vancouver? According to the British Columbia Soccer Association, teams founded by St Saviour's Anglican Church in the 1910s and 1920s played in both a local Anglican Church League and later the Greater Vancouver Church League (BC Soccer). These church leagues are part of a larger history of Christian soccer in Vancouver that connect to my previous ethnographic work with a church soccer team in North Vancouver, British Columbia who currently play in the British Columbia Christian Soccer League. Tracing this history between present-day church teams, the Christian origins of certain British teams, the presence and understanding of these British touring teams in mid 20th century Vancouver, and early 20th century Vancouver church teams opens up the space to understand the entanglement of soccer and Christianity in relation to issues of sovereignty, and place in the settler-colonial city of Vancouver.
Work Cited
Lupson, Peter. 2006. Thank God for Football!. London: Azure.
Mangan, James Anthony. 2013. The Games Ethic and Imperialism: Aspects of the Diffusion of an Ideal. London: Routledge.
"Saviours of the past…BC Soccer history unearthed in Australia" BC Soccer, 22 Mar. 2019, https://www.bcsoccer.net/news/post/saviours-of-the-pastbc-soccer-history-unearthed-in-australia.
Photo Credits
First two photos by the author.
City of Vancouver Archives CVA 99 – 3409 – St. Paul's Presbyterian Football Club. 1924 Photographer Stuart Thomson. City of Vancouver Archives CVA 99 – 3417 – St. Savior's F[ootball] C[lub]: 3rd Div. League Champions 1923 Photographer Stuart Thomson.